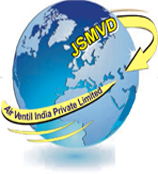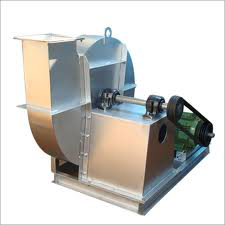 V BELT blower
Product Range
Air Ventil India Pvt. Ltd. is a reputed manufacturer, supplier and exporter of Air Ventilation Systems and Air Pollution Control Equipments. Our products find wide application in many industries for the purpose of air ventilation and pollution control. The comprehensive range of our products include:-
1. Industrial Centrifugal Blower.

2. Axial Flow Fans Wall mounted/bifurcated .

3. Roof Exhausters.( motorized only)

4. Paint Booths

5. Dust Collectors Cyclone/Bag)

6. Cellulose Paper cooling Pads imported

7. Scrubbers for dust or fumes

8. Air Filters (Pre, Fine, HEPA, for F.B.D ).
9. Heavy Duty Air Curtains
AIR COOLING MACHINE DETAILS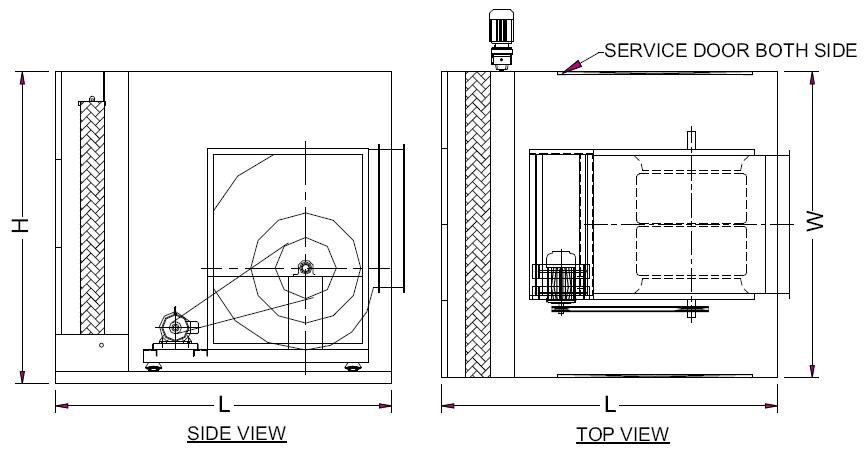 DETAILS OF AIR WASHER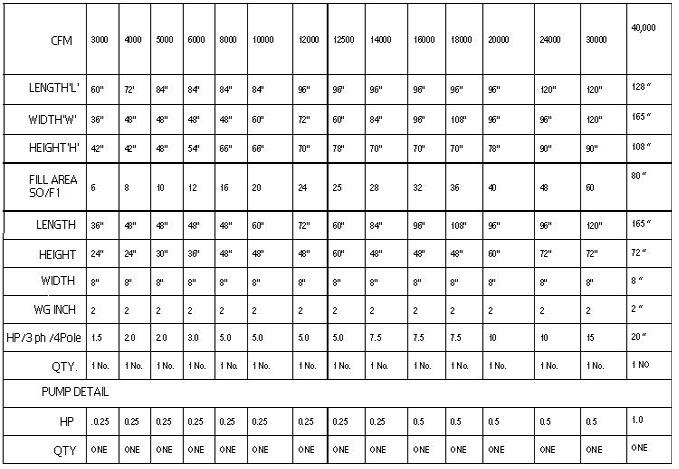 Cellulose Paper Pads IMPORTED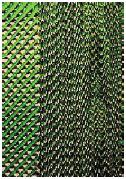 Available In width 600 mm height 1200- 1800 mm and 100- 200 mm thich
DRY AIR FILTERS H E P A , MICRO- V & PRE- FILTERS
The filter element is constructed from special types of Synthetic non – woven needle punched media stitched Together with GI/Alu /HDPE wire mesh and crimped To from deep folds to ensure uniform air flow resulting

In low differential air pressure, high dust retention Capacity, high flow rate. To ensure uniform Distribution of air flow and longer service life, filter Folds are separated by aluminum spacers. Efficiency – 99% down to 0.3 , 3, 5 and 15 microns

INDUSTRIAL CENTRIFUGAL BLOWERS

We manufacture Centrifugal Blowers in practically all forms and designs to suit any particular application. We supply SISW, DIDW and multistage Blowers with capacities varying from few hundred M3/Hr to 3,00,000 M3/Hr. The pressure in case of single stage Blowers shall be upto 1200 mm WG and beyond that multistage Blowers can be offered. We also manufacture FRP & Rubber lined Blowers for handling corrosive fumes.

" JSMVD group of companies " Centrifugal Fans Types LL-S & LL-DF are designed for high volume, low pressure duties with low noise level, thus making them suitable for air conditioning, ventilation & humidification systems.
These fans are generally available in welded construction & hence are robust & sturdy. " JSMVD group of companies " offers 3 types of construction - from 15 mm WG to 300 mm WG of static pressure - suitable for dust free air.
The ID & FD fans are carefully designed to meet all requirements for various industrial applications. Optimised for moderately dusty air, they are of heavy duty construction with statically & dynamically balanced impellers & give trouble free operation. There are 3 basic types of fans with 25 sizes.
" JSMVD group of companies " makes HBH & HSH series fans having statically & dynamically balanced impellers. These develop pressures upto 1200 mm WG. These are suitable for dust free air & are available in different models, for air quantity 300 m³/hr to 9000 m³/hr.
Impeller Types







TYPE : JMBL, JMMBM, JMHBM, JMHBH





APPLICATIONS
Forced Ventilation
Motor Ventilation
Drying Applications
Wire Drawing Machines
Dust Proofing

TYPES : JMMRL, JMMRM, JMHRH





APPLICATIONS
Boilers
Foundries
Welding Shops
Pharmaceuticals
Chemical Engg. Industries
Automobiles

TYPES : JMFSL, JMMSL, JMMSM, JMHSM, JMHSH





APPLICATIONS
Abrasives
Sticky Dust and Fumes
Pneumatic Conveying

TYPES : LL-S, LL-DF





APPLICATIONS
Air Conditioning
Air Cooling
Ventilation
Pressurisation
Pressure Range
| | |
| --- | --- |
| Type | Total Pressure Max. |
| JMBL/ JMSL | 130mm wg |
| JMMRL/JMMSL | 300mm wg |
| JMMBM/JMMRM/JMMSM | 600mm wg |
| JMHBM/JMHRM/JMHSM | 800mm wg |
| JMHBH/JMHSH | 1000mm wg |
| JMHBB(2-Stage) | 2500mm wg |
Drive Arrangements
The standard range of Centrifugal Fans offered by " JSMVD group of companies " has four different drive arrangements and three different types of blower wheels, which can handle from clean air to dusty air/moist fumes.



Arrangement X
Blower wheel mounted directly on the motor shaft.

Arrangement Y
Blower wheel mounted on a shaft supported by two bearings on one side, mounted on a pedestal.

Arrangement Z
Arrangement B with extended pedestal to mount the motor and blower, to have direct coupling.

Arrangement Y(S)
Blower wheel mounted on the shaft with bearings, one on each side.
Rotation & Discharge Directions

Technical Specifications
Air/gas quantity : 300 m³/hr to 2,000,000 m³/hr
Pressure : Upto 1,400 mm WG at density of 1.2 kg/m³ (Single Stage)
Temperature : 50°C for Arrangement X.
: 100°C for Arrangement Y.
: 380°C for Arrangement Y with cooling disc.
Material of construction
: Standard: Mild Steel sheets and plates.
:On request: Stainless Steel, Blowers with F.R.P. Lining if necessary.
Bearings : Heavy duty Ball / Roller bearing
Shaft : EN 8 Standard or on request Stainless Steel
DUST COLLECTOR / BAGS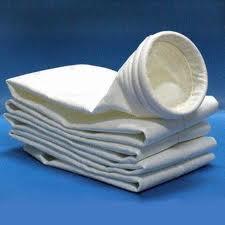 Dust collectors filter dust from polluted air and discharge clean air into environment. Dust collectors are efficient in protecting employees and society from exposure to pollution and recover products from dust filled air. Thus dust collectors facilitate compliance with air emission and health standards. Different types of air pollution are treated by various types of dust collectors. Commonly used dust collectors are inertial separators, bag house dust collectors, air washers and air scrubbers, electrostatic precipitators and cartridge dust collectors. There is a special range to handle dust laden air at 250 deg C made out of woven fiber glass can be made in various sizes and shapes.
Bags for F. B. D.

Fluid Bed Dryer bag is abbreviated as F.B.D. Bag. Industries like pharmaceutical, chemical, processing and agriculture make use of F.B.D Bags in their applications. F.B.D. Bags are solution for drying, sizing, agglomerating or spray coating of delicate substances. Different types of F.B.D bags are manufactured depending on required air permeability, retention micron and static charge. Pure Filter Systems has pioneered in manufacturing F.B.D Bags. Superior grade fabrics make F.B.D bags long lasting. Durable F.B.D bags are provided as per client specifications. These F.B.D. bags are also available in affordable prices. The F.B.D. bags are regularly tested to meet international quality standards.
SPRAY PAINTING BOOTH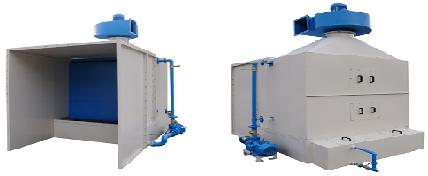 JSMVD Spray Painting Booth are popular in industries because of their low power consumption and high efficiency. The booths are made in panel construction thus easy to assemble to maintain. This equipment is environmental friendly as the painting area and outside is the free from volatile vapors and pigments. JSMVD can design special booths depend on the requirement and application as they are pioneers in manufacturing of CENTRIFUGAL BLOWERS and SCRUBBERS. The industry is benefitted by using these booths as it not only improves working condition and also the products finish. JSMVD has got a wide range of Spray Painting Booths such as table top, with pump, without pump, dry type, down draft and non-standard application. Apart from above, we also provide pressurization / air replacement units and dust Proofing system having built-in air cooling chambers.

All the above dimensions are in mm & approx. In accordance with our policy of continual improvement in design. We reserve the right to depart from the details given in this brochure.
Heavy Duty Air Curtain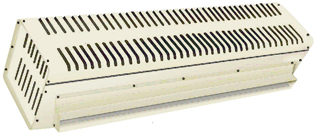 We design & supply various kinds of HEAVY DUTY AIRCURTAINS having strong metallic body construction fitted with continuous rating AC motor of 1/3 H.P/1440 RPM , operative on 220 volt single phase multiple motors ,air velocity at source better than 15-25 meter/sec., complete with clamps and mounting accessories suitable for door size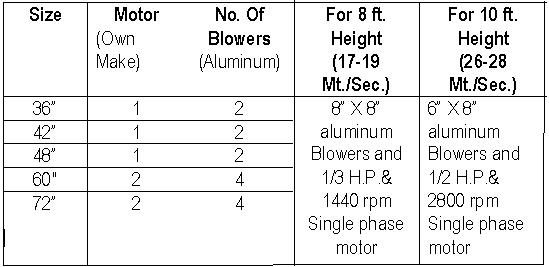 Axial Flow Fans.
We provide aerofoil designed axial flow fans in various designs such as Wall Mounted TYPE, Roof Exhausters.( motorised) , Man Coolers, Bifurcated type cooling hood fan The impellers are of cast alloy aluminum type and as per the specific design. These can also be provided in two-stage construction to be used as reversible TUNNEL ventilation fans.
Wall Mounted TYPE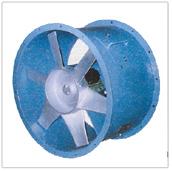 Volume 2,500 CMH 50,000 CMH
Pressure 15 – 100 mmwg
0.5 HP – 15 HP

Direct coupled or belt driven
Construction mild steel stainless steel , FRP coated
Roof Exhausters.( motorised)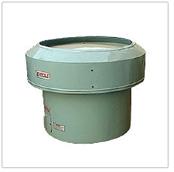 Volume 5000 CMH 20,000 CMH>
Pressure 15 – 35 mmwg>
0.5 HP – 2 HP

Direct on motor driven
Construction mild steel stainless steel , FRP coated
Man Coolers.

Volume 2,500 CMH 50,000 CMH
Pressure 15 – free air delivery
0.5 HP – 15 HP

Direct coupled or belt driven
Construction mild steel stainless steel , FRP coated
Bifurcated type cooling hood fan

Volume 2,500 CMH 50,000 CMH
Pressure 15 – 100 mmwg
0.5 HP – 15 HP

Direct coupled or belt driven
Construction mild steel stainless steel , FRP coated